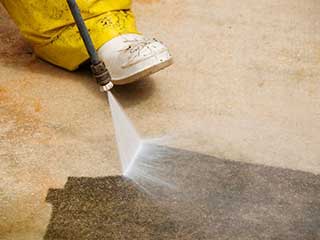 You can easily see it between the tiles, but most people are not happy with its look. Yes, we're talking about grout. It is typically more challenging to keep clean compared to tile, but this doesn't mean that you cannot achieve good results. Here is important information and advice on grout cleaning.
Grout Specifics
Why does it get so dirty? The job of this material is to fill gaps and it is natural for dirt to get accumulated into gaps. Given that tile is used mostly in the bathroom, kitchen and mudroom, it can become very dirty and even a breeding ground for mold. Additionally, this material is porous. This means that the particles will get deeper and deeper unless you act timely. Therefore, you should pay special attention to the grout practically every week during tile cleaning.
The Best Cleaning Approach
Usually, you can clean grout effectively along with tile, but sometimes it needs special attention. It's always best to begin with the mildest possible cleaner, which is water, even if the job involves stain removal. You simply need to scrub the grout with hot water. Use a small cleaning brush which is especially designed for the purpose. While it may have hard bristles, it shouldn't scratch the tile surface.
While a commercial cleaner is always an option, you must choose it carefully to protect both the grout and the tiles from damage. You may want to focus your attention on eco-friendly products. It's best to test the product on a small section under a fixture or in the corner before using. You can also prepare a solution with equal amounts of water and vinegar. It's great for odor removal among other things.
No matter what type of cleaner you use, you must rinse the grout after you are done removing the dirt.